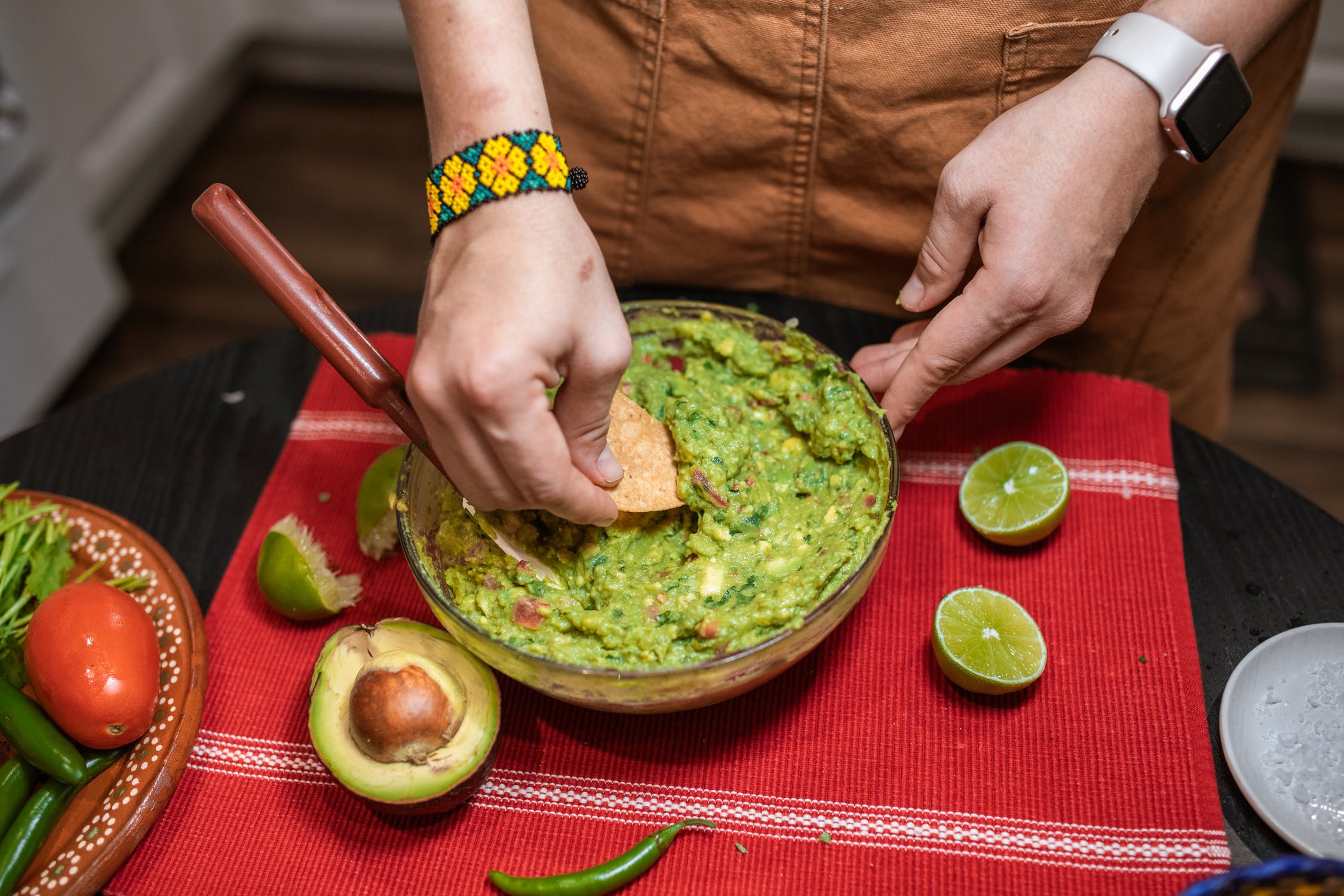 08 Mar
4 Dips To Eat With AlbaLisa's Organic Tortilla Chips
Tortilla chips and dip are a match made in heaven. Although you might think of chips and dip as a greasy, cheesy snack that should only be enjoyed on special occasions (Superbowl nachos, anyone?), this isn't the case at all. Our Organic Tortilla Chips are made from preservative-free, GMO-free ingredients and fried in sunflower seed oil, a healthy alternative to other vegetable oils on the market.
Here are 4 healthy dip recipes to enjoy with our Organic Tortilla Chips!
Vegan Hummus & Avocado Dip
What better way to combine avocados and chickpeas, two of the best Superfoods on the planet? Chickpeas are a great source of dietary fibre, calcium, and magnesium, which can improve digestion, help protect against disease, and maintain a healthy weight loss! Chickpeas are also packed with protein, which can reduce your cravings for a late-night snack and keep you fuller for longer.
Additionally, avocados are loaded with potassium and monounsaturated fatty acid, which aids in reducing blood pressure, inflammation, and will keep your skin and hair looking healthy. In addition to its endless health benefits, avocados are rich in flavour and texture, and can add a creamy touch to any recipe.
Ingredients
Directions
Drain your can of chickpeas, but make sure to save one tablespoon of the chickpea liquid. Pour your chickpeas and liquid into a food processor and then add your ripe avocados. Combine the rest of your ingredients and puree until smooth. Transfer the dip to a bowl, top with fresh ground pepper, drizzle with olive oil, and serve with chips.
Heart-Healthy Green Goddess Dip
Is your pantry packed with herbs that are just waiting to be used? Our healthy version of the classic Green Goddess Dip is packed with herbs, healthy fats, and superfoods that will make any snack time a nutritious one. Your kids won't even know how healthy this dip is! Traditional Green Goddess Dip calls for sour cream or mayonnaise, but by swapping this ingredient out with Greek yogurt, you'll get the same taste with the added bonus of extra protein, calcium, and potassium. Our recipe also calls for apple cider vinegar, which can improve digestion, reduce belly fat, and lower cholesterol.
Ingredients
In a food processor, combine your avocados, herbs, Greek yogurt, apple cider vinegar, olive oil, salt and pepper and blend until soft. Transfer your dip to a bowl and top with crushed goat cheese and pine nuts. Serve with AlbaLisa's Artisan Tortilla Chips!
Roasted Tahini & Vegetable Dip
Is there a better superfood than tahini? Loaded with omega-3 fatty acids, vitamins, minerals, and antioxidants, tahini contains anti-inflammatory compounds that can improve your brain function and reduce the risk of disease. Turmeric is also an anti-inflammatory superfood that can suppress fat tissue growth, promote weight loss, and reduce abdominal discomfort. When these ingredients are mixed together, you're left with the most creamy, golden-orange superfood dip that can be enjoyed every day!
Ingredients
Line a flat pan with parchment paper and preheat your oven to 400 degrees. Place your eggplant and pepper on the baking sheet and drizzle with olive oil, salt and pepper. Bake for 15 minutes before tossing your vegetables halfway through. Bake for another 15 minutes. Once your vegetables are prepares, transfer them to a food processor and add your cilantro, garlic, tahini, turmeric, olive oil, and a dash of salt and pepper. Mix until your desired consistency. Finally, transfer your tahini dip to a bowl and top with chopped cilantro, sesame seeds and olive oil. Serve with AlbaLisa's Chili-Lime Tortilla Chips.
Healthy Buffalo Chicken Dip
Buffalo Chicken Dip is usually reserved for social gatherings or a night out at a bar or restaurant – meaning that this particular dip usually gets a bad reputation for being unhealthy. We're about to change your perception about this amazing dip and offer you a recipe packed full of healthy alternatives! Traditional Buffalo Chicken Dip is made with sour cream, cream cheese, and lots of butter. We're swapping out sour cream and cream cheese (both contain excess levels of saturated fat, which may cause your body to produce extra LDL cholesterol), for Greek yogurt, which contains a higher amount of protein, calcium, potassium, as well as healthy bacteria for the digestive tract that adds to healthy gut flora.
Ingredients
Ensure that your block of cashew cheese is softened before mixing all of your ingredients into a large bowl until thoroughly combined. Preheat your oven to 350°F and place the oven rack to the middle of your oven. Pour your cheesy dip batter into an 8x8 pan and bake for 25 minutes. Garnish with chives and serve with AlbaLisa's Ranchero Tortilla Chips! 
For more recipes and cooking tips, follow us on Instagram at @albalisamexicanfood